GC2D8RY LACking Nothing, Georgia, Hides, United States
No Comments »
I've sent 2 of the kids off to their 1st and 3rd years of college, the oldest was out for the day, so I took the youngest on a geocaching adventure down Lawrenceville Highway, the main artery through our little suburb that some folks use to get in and out of Atlanta.
On our way there, a new cache had been place near us since the last time we went out, so we stopped by that first. The software that I use on my Android phone to look for geocaches (c:geo) was having some issues with talking to the official geocaching website (so I found out after I got home). Compounding that was the fact that my phone's GPS receiver was responding very slowly, so we had to rely on the description more than directions from the phone.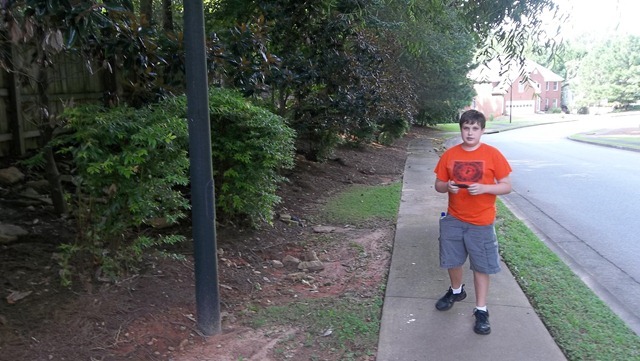 But after a short amount of searching, Adam came up with the find. The description of the container in the description didn't match what we found, but the most recent (damp) paper log entries matched the ones for the cache, so we were pretty sure this was it. (I read down through the earlier log entries and noticed that some had said they replaced it.)
We then went on to Lawrenceville Highway. The first stop was behind a Kroger grocery store. It seemed like it would be a simple find (all the recent entries said it was easy), but we came up empty handed. Just before we left, reading through the logs, I found that, again, someone had replaced the cache container because the one in the description had been broken. So we had been looking for one thing (a magnetic hide-a-key container). Still, even with the hint, we didn't find it.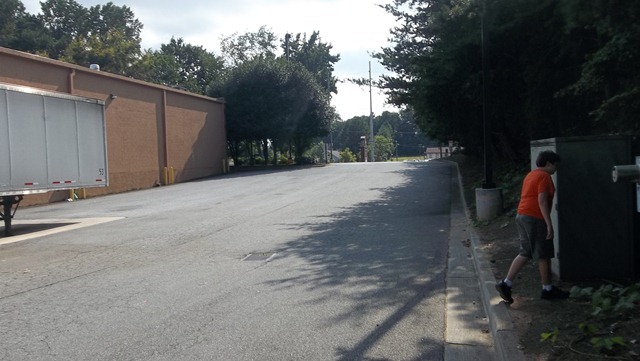 Onward to the next stop. This was a relatively new cache as well. Adam got out of the car, saw the fence staring at us and couldn't imagine where in the world someone could hide a cache at that spot.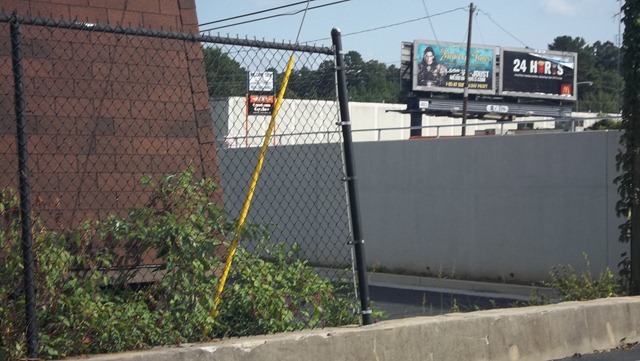 Well this time I found it, and quite quickly I might add. It was a very small "nano" cache; a cylinder about as tall as my thumb, and about half as wide. Yeah, tiny. I'd post a picture with me victoriously holding it, but then that would be a spoiler. Suffice to say I felt good about finding this one.
The next stop was a cache in a row of trees between a shopping center parking lot and a church.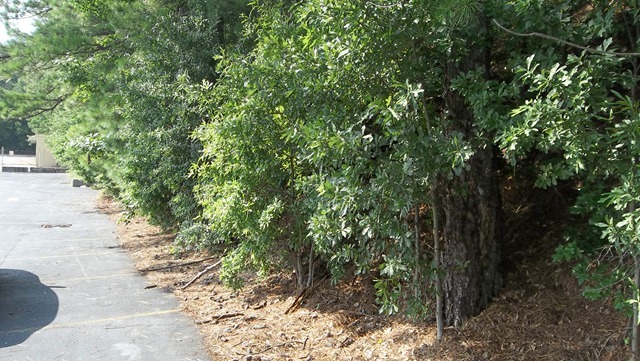 According to the cache description, it's higher up than usual (though I don't think climbing would be involved). Combine that with the many trees that it could be in, and we gave up after about 5 minutes. Couldn't see the cache for the trees.
Finally, with all the heavy (and light) rains we've had here this summer, we thought we'd check on our cache, which is also along the same road. It's rained almost every day, to some extent, for much of July and August, though the good news to that is temperatures have been kept down, and we've not had as many 90+ degree days as usual.
We got to our cache, opened it up, and was amazed at how well it withstood the water. There was a paper Varsity hat that was not damp in the least, just to give you an idea of how well the ammo can has held up. We used to have a "waterproof" container, but after it got waterlogged a few times, we swapped it out. Great idea.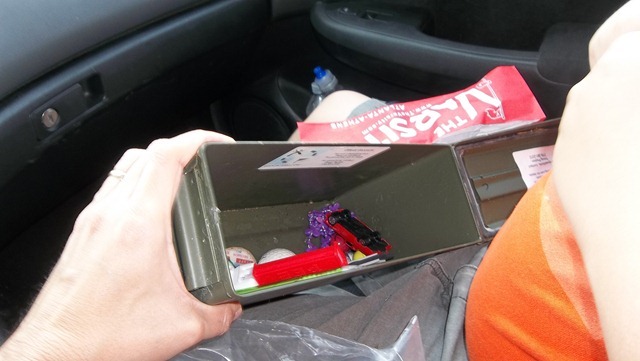 Having reassured ourselves that all was well, we put it back and went home. Today's geocaching stats are 2 found and 2 not.