Georgia, United States
No Comments »
With all the kids home, between school being out and before the summer jobs start, Memorial Day was a beautiful day to get out of the house. Instead of Six Flags or a water park, or something else, the kids decided they wanted to go geocaching, since it had been so long since we'd done it as a family. I was thrilled.
We were also going to give the game of Munzee a try as well. I'd heard about it on geocaching audio podcasts, and had found a few near my workplace recently, so I thought I'd see what the kids thought of it. It's another GPS game where, instead of a container with (at least) a log, you scan a barcode and "capture" the Munzee. You get points for captures and hides, as well as some other special events. It's just scanning a barcode, so not nearly as interesting, but for some that don't want to go rooting around on the ground, often Munzees are in easily-accessible places, often clustered in an area. So, different strokes for different folks.
We started off by going to a cache placed last year on Memorial Day in a small cemetery that, over the years, has been encroached  upon by the widening of the street and the interstate that it is on the corner of. I'm not giving much away when I say that the cache was a a huge tree that is just barely safe from the interstate. Since it was placed on Memorial Day, and apparently had been placed along with a ribbon around the tree, the cache is aptly named "Tie a Yellow Ribbon…". (See here for more information on this tradition and the song that made it generally popular.)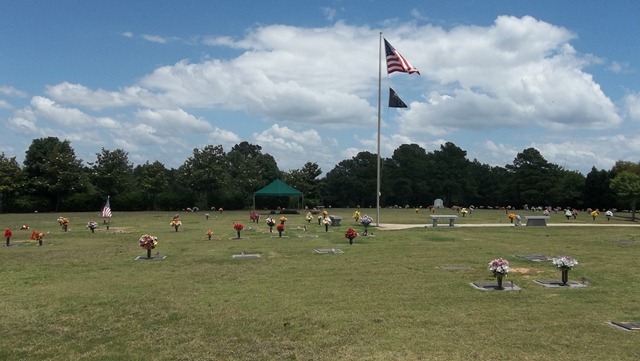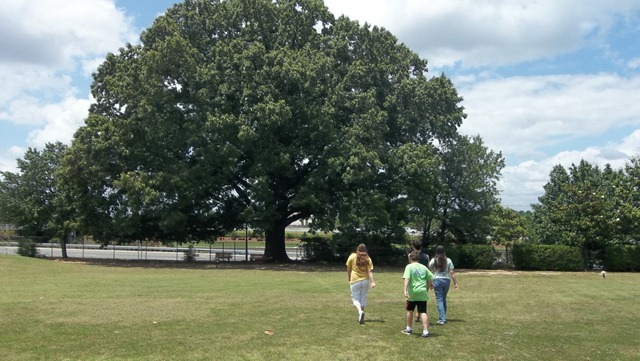 There were signs of the patriotic ribbon that had been placed there, along with staples that must have held it in place.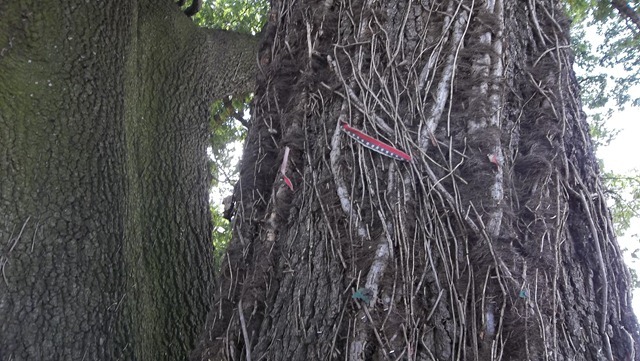 We signed the log and tried to put in a small toy car that we had, but that was just barely too big for the container.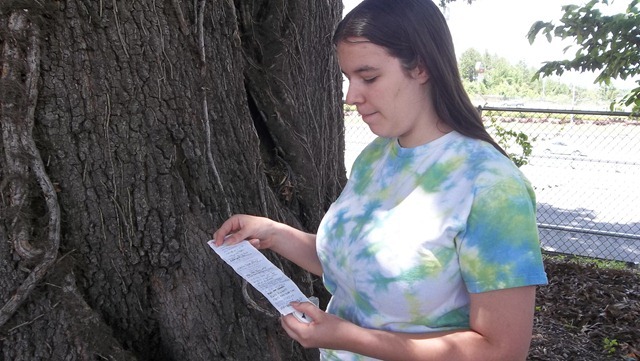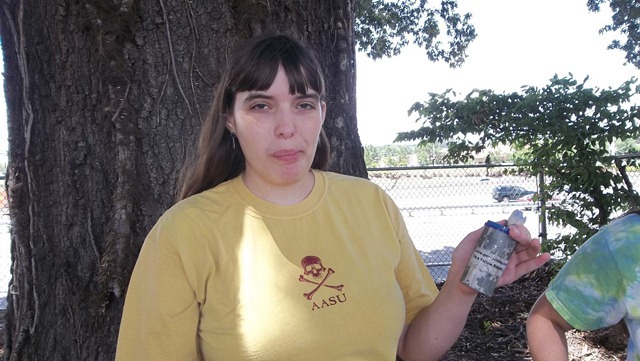 Next we tried a couple of Munzees. The first one was a the entrance to a miniature golf place we used to take the kids to. We searched all around but didn't find it.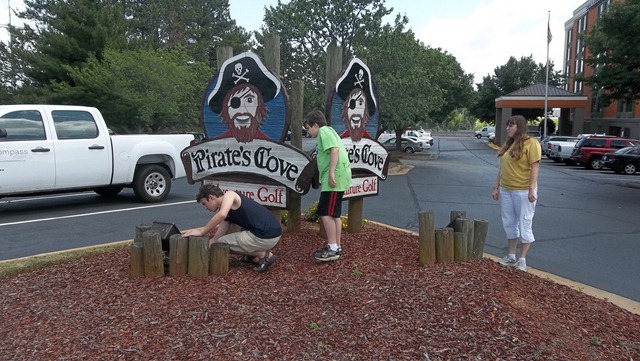 There was another one nearby at an abandoned Ryan's Steakhouse, and this one was rather simple; the Munzee equivalent of a lamp post cache.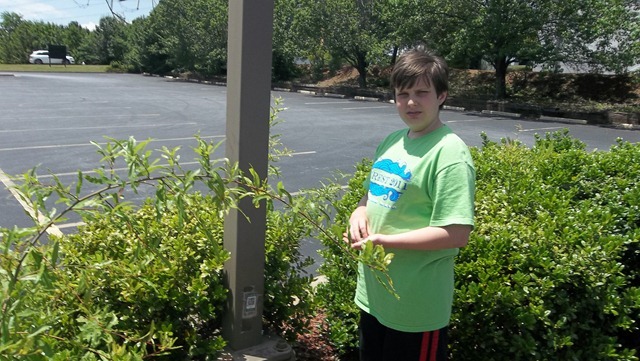 Right near the bottom is the barcode you scan to make the capture.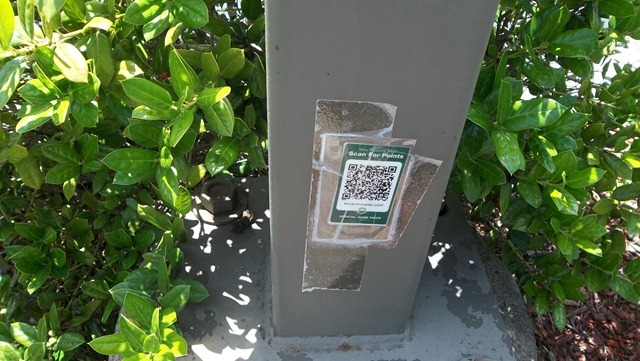 Now, you may be saying, "By posting that picture of the barcode, couldn't someone else just scan it from the picture and get credit for the find?" But the answer is no, because the Munzee app, which you must use to get credit, checks your GPS location against the location recorded on the website for the Munzee. If you're not reasonably close to it, no credit.
The next Munee looked like it would be another lamp post one near an old movie theater that has been closed for quite some time.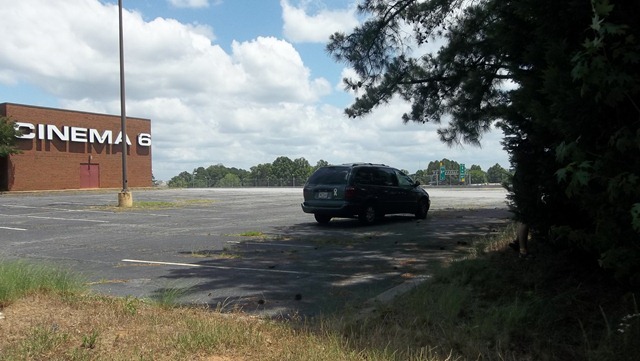 But this one was laminated and tied to a tree instead, requiring actual searching to find it.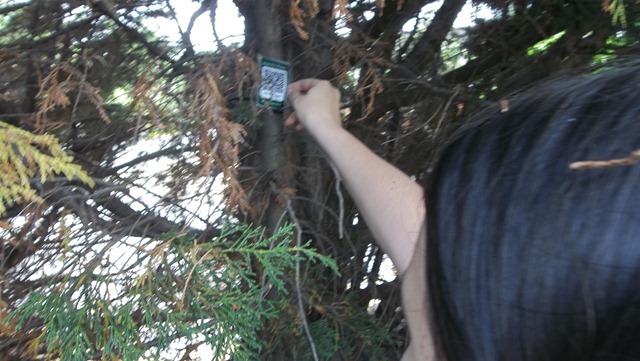 Also in the nearby Fry's parking lot, there was a geocache, an actual lamp post cache (often referred to as an LPC). A quick find by the kiddos.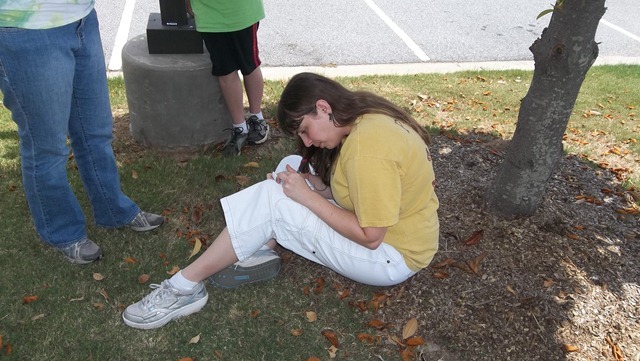 We tried one more Munzee near the Fry's, but didn't find it. It was then that, while it's interesting, the kids decided they wanted to hunt geocaches the rest of the day.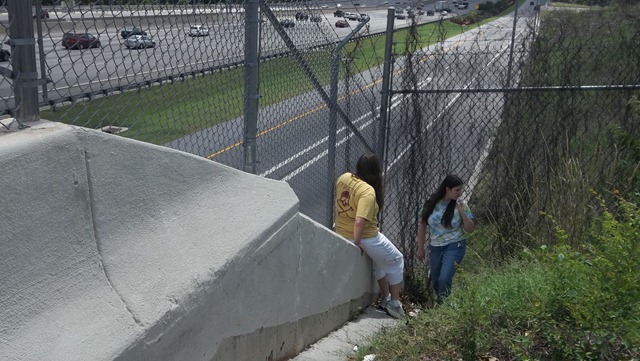 Around the nearby mall there were a few caches. We made quick work of one by Sears.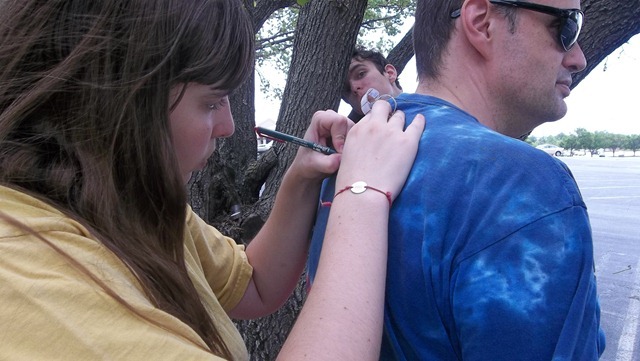 But the one near J C Penny gave us trouble and we logged our first DNF (Did Not Find) of the day.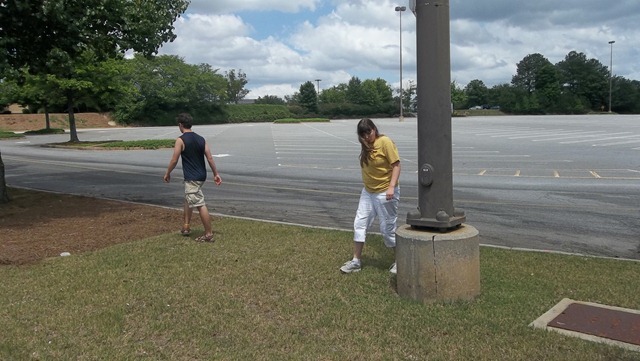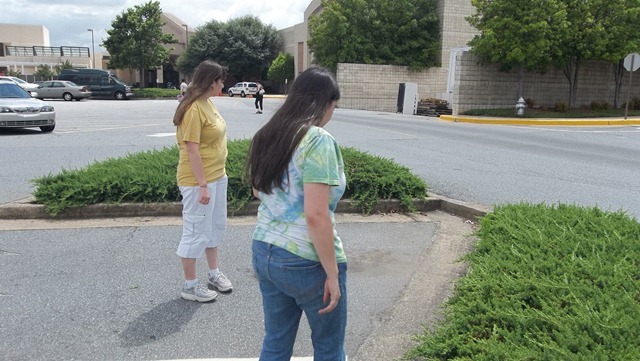 Not having gloves, we didn't want to paw around in the prickly shrubs.
There was a nearby "mystery cache" where you had to solve a puzzle to get the coordinates. The puzzle was designed for kindergarteners, so it was simple, but it was fun and gave us another nice find, with a regular-sized cache with stuff to trade. And the location, the tree it was near, was truly beautiful.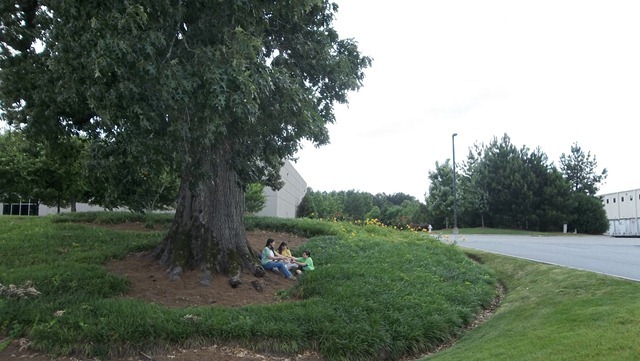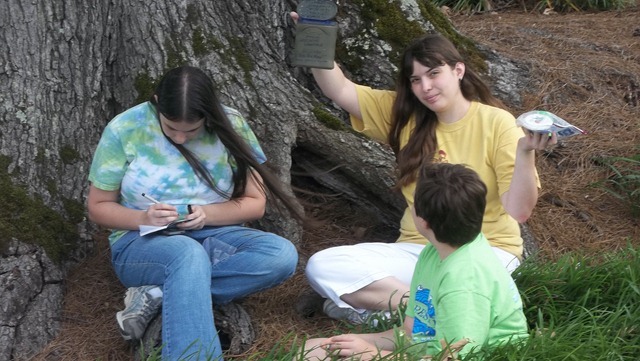 It was here that we realized we'd misplaced the caching goodie bag, so we took nothing and left nothing. We figured out that we'd left the bag at the cemetery, so we started back. After picking it up, we hit some caches back towards home.
At one office building, someone had hidden one at a picnic bench just outside the building. Well, "hidden" is putting it loosely; it was just sitting on the ground next to the bench, though it looked like it could have been hung from a hook on the bottom of the table at some point, but there was no obvious hook.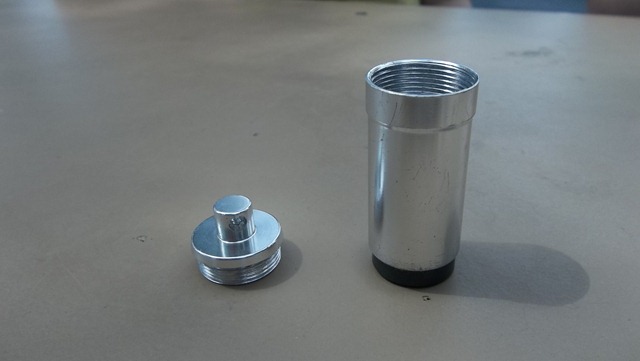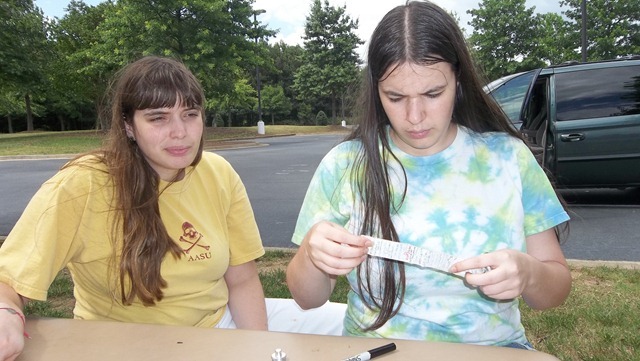 The next find was at Home Depot, and was a rather ingenious hide. It took us a little time, but one of the girls finally tried looking in something (and I don't want to say what so that cachers looking for this don't get spoiled), but didn't look…close enough, let's say. The other girl tried a little harder and did find the cache, so a team effort here.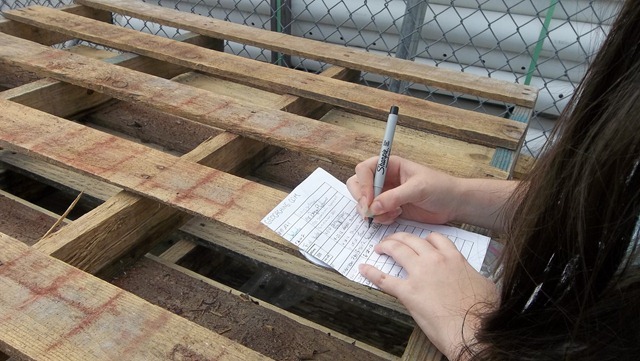 Going further towards home, we stopped by a Chinese restaurant that  used to be a BBQ place, and picked up a quick LPC.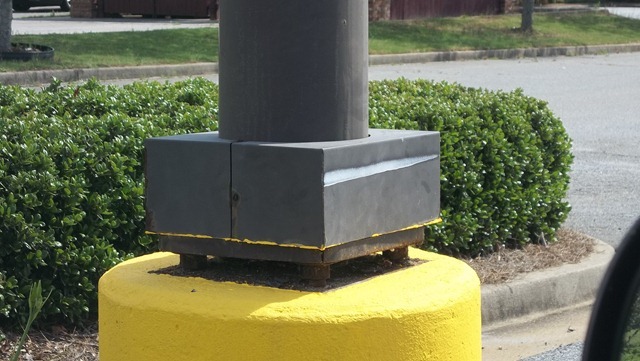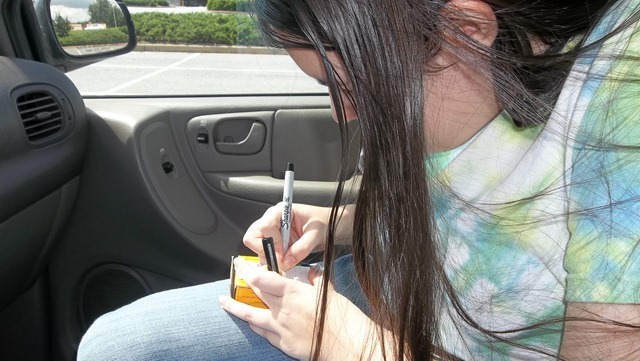 We finished on a DNF, unfortunately, and ended like we had started; in a cemetery, near a small church. A few fire ants and lost of poison ivy held us back a little, but we did made a good search but found nothing.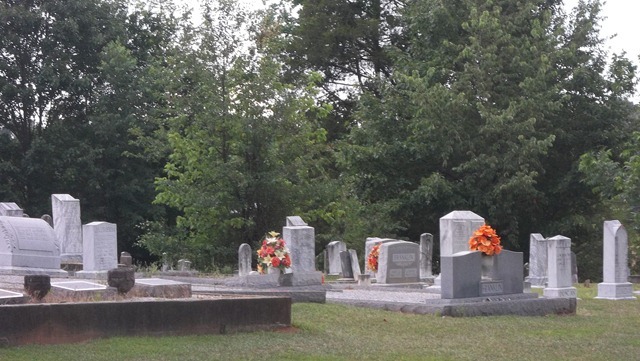 We hit 9 caches (7 finds) and a couple Munzees, which, I think, was our biggest geocaching excursion ever.