Georgia, Locations, United States
No Comments »
My youngest son's Cub Scout den was to go camping at a nearby state park, and I'd found one of the GA State Park caches on the website, so I planned on doing that as one of the activities while we were there.  Unfortunately, a fever took me out, and Mom went with our son to the camping trip.  What a trooper.
Upon arrival, the folks were expecting to do the geocaching, so Mom, having never actually run Blackstar on her own (though I'd loaded it on her Blackberry) called me for the coordinates, and I gave her a quick bit of instructions on how to enter them and how to use it to locate the cache.  Off they went.
It seems a short ways off from their campsite; just 8 tenths of a mile.  But walking in the direction, they soon found it was on the other side of the rather long lake.  So they got into some cars and drove over to a parking spot on the other side that seemed near where they needed to be.  Two paths curved around towards the direction of the cache so they split up.  Hilarity ensued as 2 scouts with the walkie-talkies wound up with the same group, and one scout got a bit lost.  (Fortunately, he had one of the walkie-talkies.)  My wife's group reconvened and continued to follow the compass arrow.  Upon arrival near the location, she looked up and immediately spotted it.  With a little help from her, the other boys saw it, and the other group came over to enjoy the find.  All complaining about legs hurting from walking so much just melted away.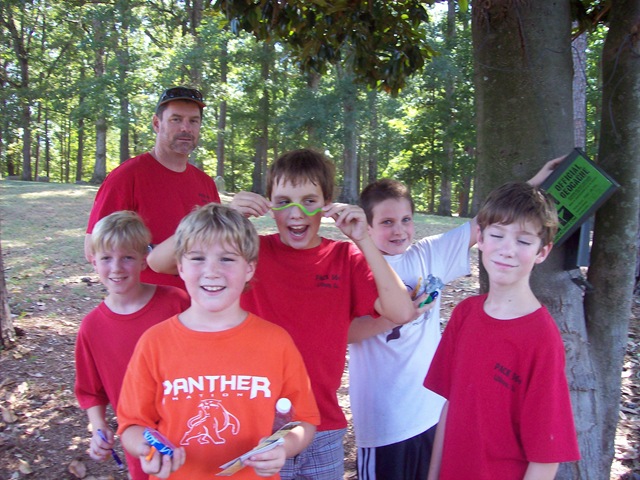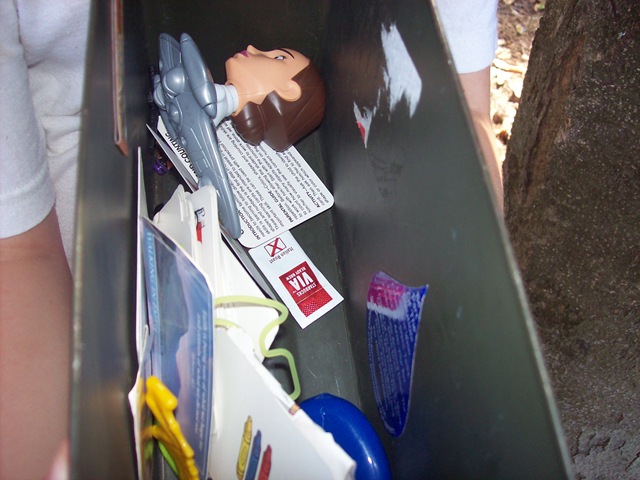 There were supposedly 5 trackables in there, but none were to be found, unfortunately.  Rather disappointing.  I hope they're not being stolen.
For the third time, we found another letterbox cache nearby.  We keep managing to stumble across these when looking for other caches.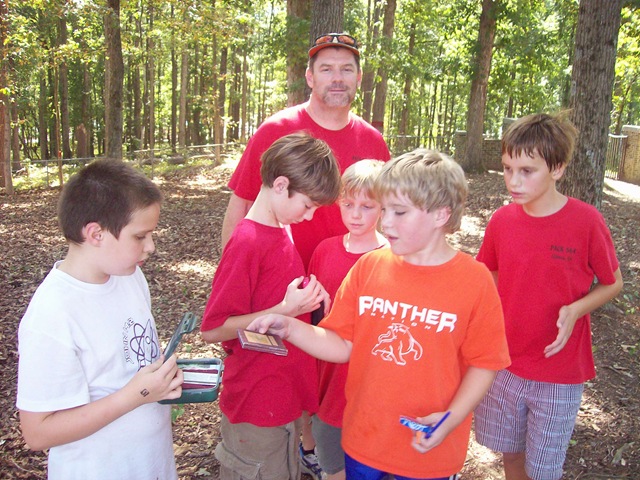 So another find for us, and the first expedition run by Mom.  Wish I could have been there, too.